What to wear to the entrance ceremony?
My eldest son has been accepted to the same preschool as my daughter.
I don't know if the entrance ceremony will be held, but for now, I've decided to prepare some clothes.
I thought about what I wore last time and the current situation, so I decided to go with something that can be worn on a regular basis.
Points to reflect on the last time I wore my daughter's school entrance ceremony outfit
This is what a school entrance ceremony corset should look like!
I went into the ceremony with a lot of enthusiasm and shallow internet knowledge, but half of the people around me were wearing normal clothes…
The nursery school I go to is a casual one, so I felt a little overdone, which is something I regret.
A tweed jacket made of Linton fabric.
A vintage black Gucci bag that stands on its own.
I tried my best to buy it, but it turned out to be a bit too much ????.
VERY, the most useful reference for this kind of event in the Arapho womamama magazine.
I feel like this year's project is a lot more casual and OK than in the past (say 4 years ago).
So if the nursery school is casual and the world is casual, then casual is the way to go!
I decided to go with a casual look based on VERY!
But even if it's casual, I want it to be a little bit clean.
But even if it's casual, I want it to be reasonably clean, and if possible, I want it to be cheap…

GU's new satin tapered pants (size S)
and my Uniqlo+J shirt and pumps????.
GU's satin tapered pants, beautiful silhouette for 1,990 yen!
The color is pretty good too, this gray looks expensive too!
The color is pretty good too, and the gray looks expensive too! Satin pants can be prone to tugging, so this price is great for using them without hesitation.
The only things that bother me are the wrinkles and the fact that the fabric is thin and soft, so it picks up the lines of what you wear inside.
However, as long as you stretch out the wrinkles and take care of the inner lining, it will be easy to use!
The shirt is a UNIQLO+J Supima Cotton Stand Collar Shirt in size L.
Supima Cotton Stand Collar Shirt (Long-Sleeved) (WOMEN) | UNIQLO
The pumps are the Louboutins I fixed at home yesterday.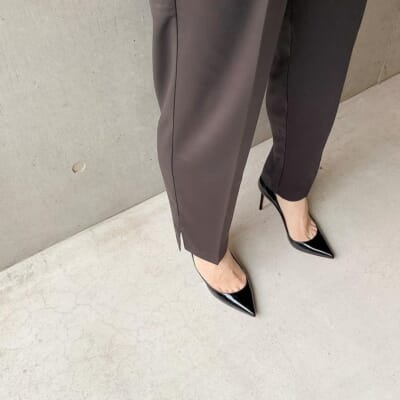 I forgot to wear stockings with them….
I don't think I'll be able to go barefoot, even if it's casual…
Here's a review of the Louboutin's.
Material Impact pumps seem to be a safe bet.
So that was the first round of ideas.
I'll think of a second one when I come up with more.
But in this day and age, I really wonder if it will ever be held in the first place…