I bought CHARLES&KEITH white enamel loafers with thick soles.
I wore them for a day after writing an article about them, and they were good at first, but gradually the overlapping part of the instep part hit the protruding part under my thumb, and it became painful…bummer.
SHOCCCKKKKKKKKK!!!!
That's because I have a big toe.
I had to be careful with slim moccasins.
But I thought they would be okay with the mesh backing, but I guess not….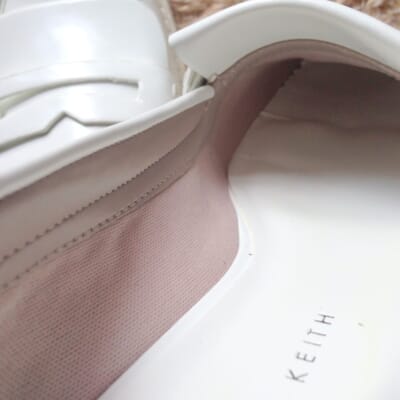 I was wearing thin socks, but the pain couldn't be covered.
This is often the case with people around me, where people with wide waists (the width of the widest part of the foot) feel pain when they walk when they wear moccasins or loafers with narrow waists and overlapping parts.

This is because that is the part of the shoe that bends the most when you walk, so it hits your foot.
And since they are made of solid enameled synthetic leather, it is even harder for my feet to adjust to them, which is the reason for the pain. Nuh-uh.
Most of the shoes I own are genuine leather, regardless of whether they are no-name brands or high brands. It's because I have a big toe like my parents, so I prefer shoes that are comfortable for my feet. Oh, I forgot.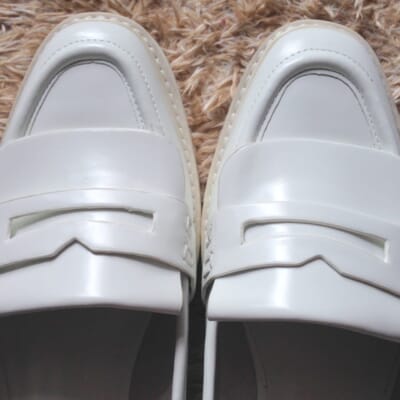 I still want to wear them! What if I do?
The thick soles make it hard for my feet to hurt, and on rainy days I want to wear them instead of rain boots because the material prevents water from seeping in.
So, I don't think they'll stretch that much.
I think I will go to a shoe repair shop to have them stretched.
Normally, when stretching shoes, alcohol is sprayed on the inside of the shoe to make it easier to stretch, and then a kind of last (shoe mold) that disassembles horizontally and vertically by turning a screw is placed inside the shoe, and the shoe is stretched out by applying pressure just barely. To be precise, the upper part of the shoe (not the sole).
And it stretches if it's leather… but synthetic leather is hard to stretch. There is synthetic leather that stretches, but I don't think there is any stretching factor in these shoes to begin with….
I'm going to take them tomorrow, assuming they get rejected!
I hope it will be easier to wear…