There is a loafer that I have been using for a long time.
That loafer is the G.H.BASS loafer, the WAYFARER.
What G.H.BASS?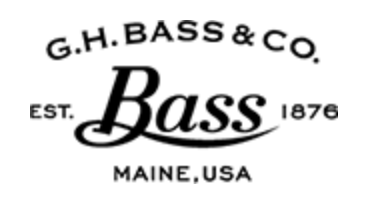 G.H.BASS is an American brand.
It seems to go back as far as 1876(!).
It is said that Bass made the world's first loafer in 1936.
Bass has been loved by various people, including President Kennedy and Michael Jackson.
I have heard that there are many people who love the original loafer.
I think the reason why they have become so popular is that you can wear them quickly and effortlessly, while still maintaining a crisp look.
It's also fun to be able to show off your socks and coordinate them according to the trend of the moment.
Worrying about comfort
The more you wear them, the more comfortable they become for your feet, which is probably the reason for the McKay method.
The soles are hard at first, but the more you wear them, the easier they become to walk in.
But the uppers are so hard! It's so hard!
I think it's because of the glass leather, and also because of the solid construction of the shoes, which were originally made for military shoes.
At first it was painful and not good at all.
I even had to wear thick socks to get around it.
But you will get used to it.
It takes time to get used to them, so I really don't recommend them to people who prefer soft shoes.
But that's what makes it so endearing.
Gradually, the pain eased up.
Whenever I see the wrinkles on the back of my shoes that come up every time I wear them, I think woo-hoo.
My own wrinkles! I like wrinkles in glass leather because they don't look dirty (in my opinion).
It's as if I'm watching my child grow up, thinking that the large, rippling wrinkles would never have been created if I hadn't worn them so many times.
And gradually, the hard shoes (my child) become easier to bend and spread (growth), and become easier to wear (adult).
It is also important to note that the soles of the shoes can be repaired because of the Mackay method, so they can be worn for a long time.
When you first start wearing them and the soles start to chip a little, you should have them semi-repaired. This alone will extend the life of your shoes.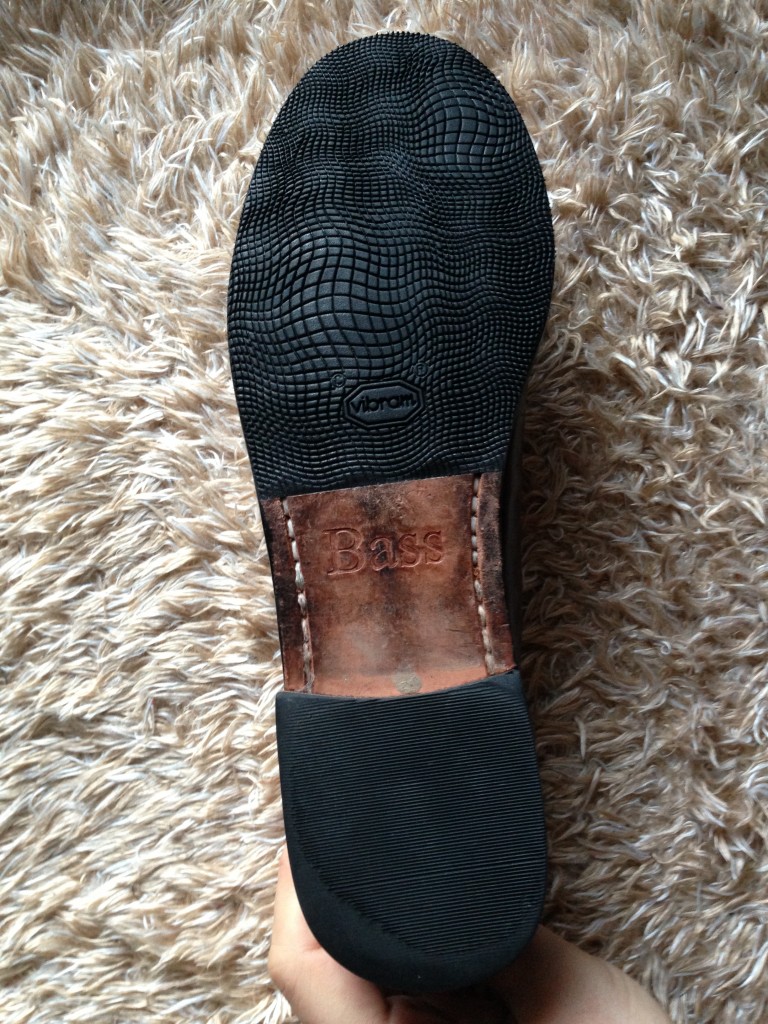 They look authentic, or rather, they're authentic because they're the originals, and there's a certain joy in those airy shoes becoming more and more my own!
And despite its appearance, it's cheap for an original.
Nowadays, the price of shoes is gradually going up, not to say, but you can buy shoes from around 13,000 yen! The real thing! Even though they are the original!
I think it was around 17,000 yen at one of the select stores, but… I wonder if it's any different.
By the way, I bought mine at a select store for about 14,000 yen.
I read in a magazine specializing in men's shoes that the price has not increased that much over the decades, but the manufacturing process has not changed.
That's great. It's pretty good for the cost.
Even in the past few years, it's not uncommon to see the price of standard shoes go up by 1,000 yen or 2,000 yen.
Even Tricker's and Trippen, which I adored when I was in high school, have gone up 10,000 to 20,000 yen, depending on the model.
Just a note of caution.
It's the same with pumps and other shoes, but the size.
They gradually get looser and looser, making it easier for them to come off.
In addition, they cover your feet and are hard at first, so if you buy a larger size, you'll end up with heels that slip off easily like mine.
I bought a US 7.5 after receiving an explanation at the time… I wonder if a 7 would have been better…. No, my foot length is just fine. I guess it's another last problem.

RANDA flats with flower decorations did not fit my feet…
My foot length is about 241mm in both feet, 2E and 3E, and I usually buy 24.5cm or 24cm shoes.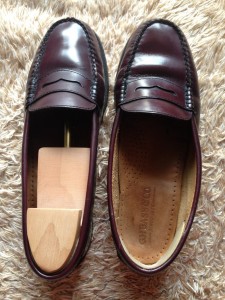 I have a stopper on the inside of my heel now, but I also have the impression that my foot is just being pushed forward because my heel is not deep enough.
Not that I can't walk.
The honest truth is that I don't want to walk for a long time.
Basically, I try to keep them in shape by putting in a shoe keeper.
But look, when I remove the shoe keeper, they spread out like this. I guess they've gotten used to my feet…
According to one theory, you can also choose the width, but most stores only have one size.
Which size is right for you depends on the store, so be sure to try them on!
Come on, try!
By the way, when it comes to loafers in Japan, it's HARUTA.
Loafers are a familiar shoe for many people who wore them when they were in school.
Loafers are now a trend and can be worn by adults in many wonderful ways.
You can even wear them with bare feet (although in my case I wear invisible socks), so let's give it a try!
You can get the real thing for about 13,000 yen. No such bargain!
By the way, Haruta is also working hard right now, collaborating with various apparel companies, so be sure to check them out!