I went to CHURCH'S store at Omotesando.
Last year, I wrote about CHURCH'S BURWOOD with studs, which I often wrote about and had a lot of access to because it was my favorite.
Finally, in November, I ran into a stud removal that I was concerned about!

On top of that, the surface layer of glass leather was peeling off!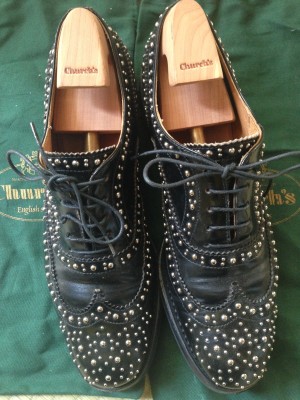 I was quite shocked, but on the other hand, I was also curious about how to repair it.
So I went to CHURCH'S store @ Omotesando, which opened last year!
Conclusion
Studs should cost about 1,000 yen per location.
Peeling cannot be undone.
They are going to start repairing the studs.
And I was told that I should expect to pay about 1,000 yen per stud.
I've already lost about five studs, so I'm guessing about 5,000 yen.
The repair method is to embed the studs with nails with glue.
So it seems to depend on how the studs are removed.
If it's not a good ground for the nail to bite into, it will come right off again.
That's true….
I was told that I could take it to the store where I bought it or to the main store in Church and they would take care of it.
1,000 yen for one stud was a bit of a surprise, and I actually don't remember much of an explanation for the peeling leather.
って、あはは、とりあえずは元通りにはならない、街の修理屋さんでもいいと思う、とのことです。
まあ元通りにはならないだろうということは十分承知なので、
預けても時間かかるだろうし修理屋時代に使っていたコロンブスのアドカラーのクロをロフトで買ってきた。
Hmmm, for the time being, he said that it would not be restored and that a repair shop in town would be able to help.
Well, I'm well aware that it's not going to be restored.
It would take a long time even if I left it with him, so I went to the loft and bought a black Columbus Ad Color that I used when I was a repairman.
I'm going to buy a sandpaper and do it tomorrow.
I'll let you know how it goes.
1,000 yen for one stud
Hmmm… well, if you think about it, I guess that's how much expensive brand repairs are.
If you only need to repair one stud, but if you need to repair several studs, I'm sure you'll be paying 10,000 yen soon.
Also, when I heard at a store in Umeda that this spring's shipment had a noticeable amount of studs removed, I honestly wondered if I had bought the wrong one.
I can't help but wonder if I bought the wrong pair.
I know that shoes are a fashion item, but they are also a practical item!
For now, I'll leave the studs on.
I'll think about it when they come off a bit more.
Another discovery I made when I went to Church's was that they were having a 30% discount on fall and winter items!
The store was crowded with customers, so I couldn't ask which items they were selling, but if you're ever in Omotesando, I highly recommend it.
If you're ever in Omotesando, it's a good deal because they don't go on sale often.
Still, the side-gore high-cut boots of CHURCH'S are too cool to pass up…!