I bought a Hulk design T-shirt from Uniqlo.
The Kashiwa Sato exhibition was really interesting.
The design work for some of Japan's most famous BtoC companies was amazing.
It was also interesting to see the work he did for Heista and Fuji Kindergarten.
In connection with the famous UNIQLO project, there were 27 different UT products on sale for this exhibition!
I was so confused…!
Devilman would be great, or a Keith Haring photo!
Marvel or Mona Lisa! Even Osomatsu-kun…!
After much deliberation, I decided to go with the Hulk, whose bright green color caught my eye.
You can see all the patterns on fashionpressjp, if you're interested.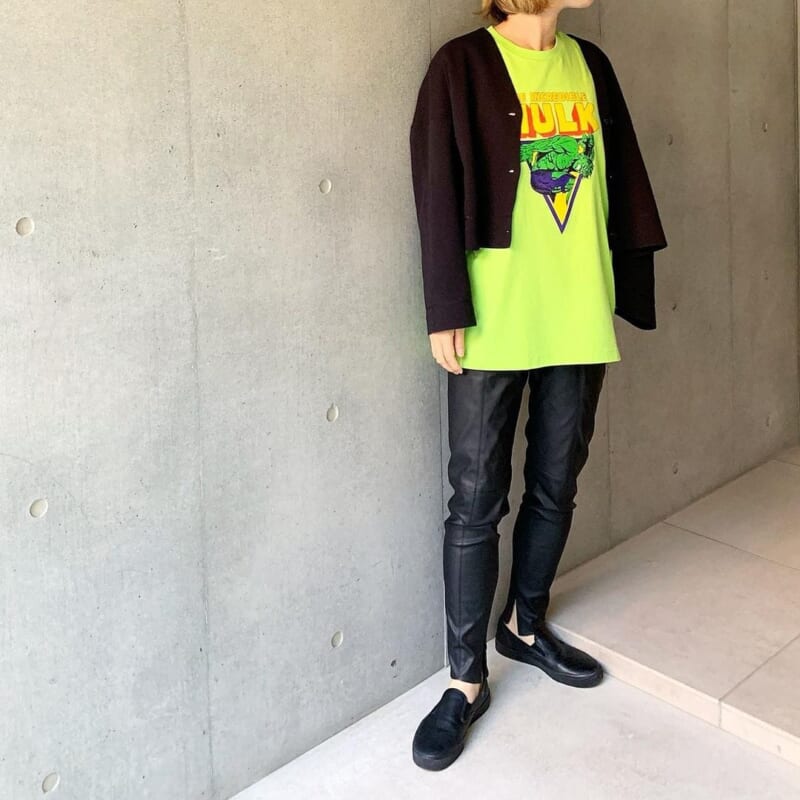 I'm going to wear the XL like a relaxed tunic. The back print is great too!
Damn it! and the Hulk looking like a koume tayu is cute!
The back print makes me feel like I'm getting a bargain, and I'm poor.
My husband is going alone next time, so I asked him to buy another one for stock.
(Is this a good idea from a storage advisor's point of view? My husband said.
And the shoes are Asahi Shoes 505, last year's number one slip-on sneakers.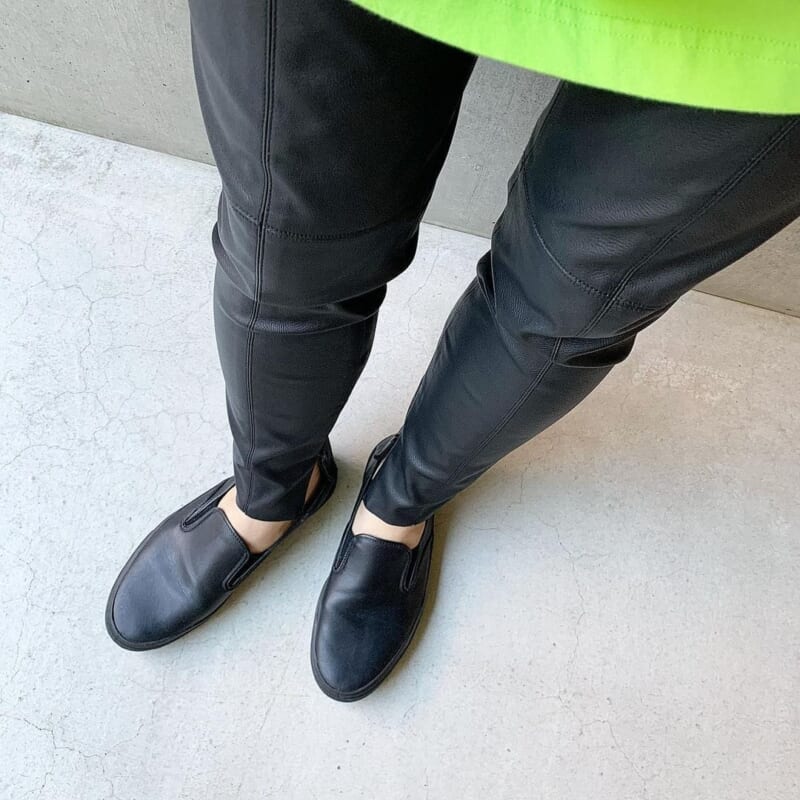 Why?
Let me introduce you to the advantages of these Asahi slip-ons.
Slip-ons are quick and easy to wear.
Just right for when you're picking up your kids from daycare
Ultimate simple minimalist design
So you can wear them with any style
Vegan leather that is easy to use
High quality but water repellent, so you can use them all the time
Made in Japan, the low price of 3,630 yen including tax is also attractive.
I really, really recommend it with all my might!
With the Hulk! (I've never seen Hulk, but
Kashiwa Sato's exhibition runs until 5/10!
UT Kashiwa Sato Exhibition Model
53 Green size:XL
¥1,650-
uniqlo.ut thenationalartcentertokyo
Asahis 505
Black size:25 ¥3,
630-#Milan Rib V-Neck Cardigan
black size:L ¥4,
389-Leather Taste Fabric Leggings
black size:S ¥3,
990-
Check out what we love about Asahi's slip-ons here!