SPINGLE MOVE is a sneaker brand from Fuchu City in the mountains of Hiroshima Prefecture, near Okayama.
▶︎SPINGLE MOVE official website
The sneakers are made in the traditional way, with soft soles that are comfortable to wear, and
leather uppers that are easy to get used to, so the more you wear them, the better they become.

The old-fashioned method is the same as the one used for Converse, which is the
vulcanization method.

There are no factories in Japan that have the equipment to make a pair of shoes that can fit in one hand, so
SpingleMove is a very rare find.
The SPM-368, made of vintage Czechoslovakian military fabric, is super cool!
I wrote earlier that the uppers are made of leather, but they also have fabric ones, and the
368s that they've been selling since last year are really cool!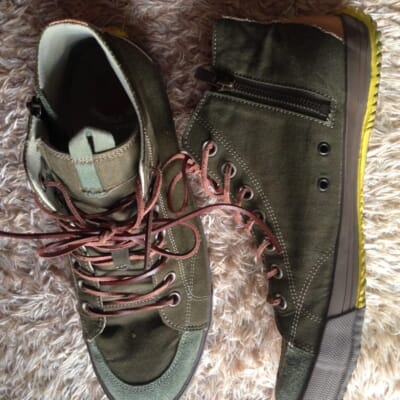 My husband has a pair, and they look great when they're freshly unloaded!
The fact that it uses nubuck leather as a point of reference is also a nice touch.
I love the bright yellow sole against the khaki color.
The laces are also leather.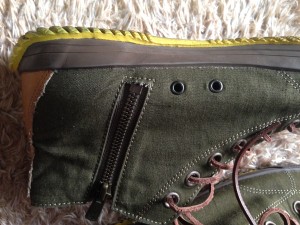 The zipper is YKK's high quality Excella.
The zipper is a YKK Excella.
A rare sneaker
Shoes that are made in Japan from start to finish must be rare even among shoes that are claimed to be made in Japan.
This is because the country of origin is the country where the sole of the shoe is last attached during the manufacturing process.
In addition, sneakers made in Japan using the vulcanization method are even more rare.
In addition, sneakers that are made with the utmost care in design and comfort are national treasures…really.
I have several pairs of these sneakers, and the cushioning that seems to envelop you in marshmallow the moment you put them on is truly addictive.
The kangaroo leather SPM-110 is my masterpiece.
I think it's because of these classic yet high-spec shoes that
various famous brands such as COMME des GARÇONS prefer to use this factory for OEM.
I hope that they will continue to make these shoes.
I'm rooting for you!