Masterpiece model Jil Sander's series of anklets.
I feel they can be said to be so in the history of shoes.
Like Margiela's #tabi.
Ring on the ankle, an unlikely design.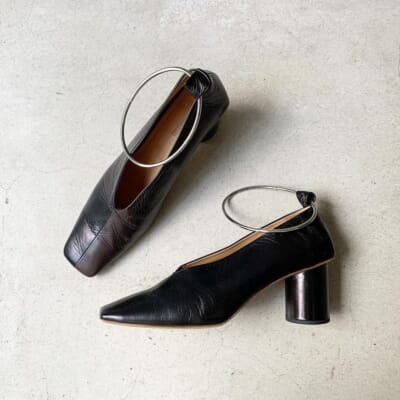 It's like wearing a bangle on your wrist as an accessory.
It can be worn in both casual and mode.
You can dress it up or down in any way you like.

What is it about this ring that gives it a sense of rank?
It's just a ring, but it has this presence….

This is the power of design! I can't stop thinking about it????.
Jil Sander's anklet series is popular for its flat square toe type.
The flat type with braided = whipstitching everywhere is popular, but there are many different models of the anklet series available.
You can find a variety of models of Jil Sander anklets here.
The Jil Sander anklet series I bought Photo Gallery
The model I bought has a heel.
Heel part
Anklet part
The texture of the leather
This is a pair of shoes for the mature woman who loves simplicity.
But every model has Jil Sander's air, a power that is almost like pressure.
It's contemporary, quiet, and flirtatious.

In my mind, they are like Tasaki pearls in terms of accessories.
This is a pair that I want mature women who love simplicity to wear.

Be careful about the size when you buy Jil Sander anklets online.
By the way, I bought size 39, but the 39 was too big for my 24.5cm feet…
38 is probably appropriate for 24.5cm. If it helps.

I'm waiting for your comments on the Jil Sander Anklet series.