Genuine leather Stan Smiths, which should become rare.
I'm not sure if court sneakers are for me.
In fact, I've been avoiding them.
Court sneakers are sneakers that are used for tennis and basketball courts.
I've been wearing them for a while now.
(Personally, I don't think All-Stars are included in this category, but technically, they are court sneakers.
But I've always been curious about the Stan Smith.
a senior shoe lover told me that Adidas is going to change all of their Stan Smiths to recycled materials for sustainability reasons!
It was December 14 when I received the preliminary report.
I did some research at the Adidas store, and found out that the genuine leather version was the last one in stock.
So I lingered and lingered, and finally got up the nerve to buy them.
I bought a pair of Stan Smiths, CQ2871.
These are Adidas Originals with a list price of 15,000 yen.
Did you know that there are many types of Stan Smiths?
I didn't understand it at first either.
The shapes may look almost the same at first glance, but the logos and stitching may be different, the materials may be slightly different, and there may be seasonal items.
But for now, I want the classic of all reprints!
If that's the case, you can't go wrong if you buy a pair of Originals at this price with a slightly yellowed sole.
In case you're wondering, the one that's easy to get wrong is the lower-priced one from ABC, which is also made of genuine leather.
The sole is white, just like the upper.
So, I was torn between this and the even higher model, Recon (Leacon?).
There are many differences, but the biggest difference is the leather upper.
There are many differences, but the most important difference is the leather upper, from the texture of the leather to the lining.
I was really confused, but in the end, I bought the CQ2871 because I don't have any of the standard ones.
When I received it, I thought, the leather is soft! And the texture of the grained leather is still there, giving me a good impression!
I knew it was green, but the current one is darker.
I had a strong image of a brighter green, but it was unavoidable!
Somehow, this white and green is the most classic image I have.
I know that white and gray is easier to use….
I'm just going to try them on quickly.
Then I realized they were kind of minimalistic, which was great!
They look great for a casual adult style.
The pure white has a great clean, loose look.
By the way, I usually go up one size in sneakers, but the Stan Smiths were rather loose and I was able to wear just the right size.
Now I'm wondering why I didn't buy it before.
I remembered that when I was working in a foreign company, my boss was always telling me to lose my assumptions.
I'm going to wear these Stan Smiths all the time, except in the middle of summer, and if I'm lucky, I'll buy some Recon.
I'm glad I bought them.
If you have any questions, please contact us as soon as possible.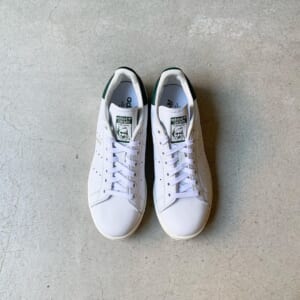 shoes adidasoriginals #stansmith