I just got my very first pair of Jimmy Choo.
Jimmy Choo heels, even with my big toe!
I have a wide toe and wide feet.
I chose a 38.5 in these shoes.
These shoes are one size larger than usual.
And when I put the half insoles in these shoes on the front side, they fit my feet perfectly!Impressive!
It was a dream come true to have this beautiful shape and cut for me.
It's a beautiful shoe with a 5cm heel, easy to walk in and stable.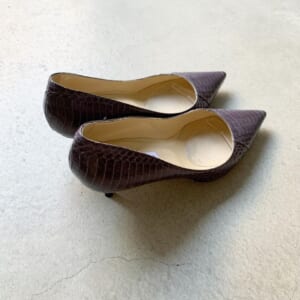 In fact, Jimmy Choo is from Cordwainers college,a prestigious shoe school in England.
I'm not sure if that's why they're so easy to walk in?
shoes jimmychoo #jimmychoo