I was under the impression that SANDERS was an affordable but authentic shoe brand, with short boots (normal length, ankle length) starting at 30,000 yen and short boots at less than 50,000 yen.
English gentleman's shoes that I had always admired
However, as a high school student, no matter how many magazines I looked at, I always thought that John Lobb and Crockett & Jones were on the top of the heap, and Sanders was one of the relatively affordable shoe brands that saved my life.
This season, I wanted to buy Church's BURWOOD shoes with studs, but they were all out of stock. The only store that seemed to have it in size and easy to buy was Nano Universe, but it was brown, so I gave up.
I originally read about them in a magazine called VERY or something, and I thought they were well made in England with Goodyear studs, and the use of studs with trendy elements was cool! I thought they were cool. They were expensive, but I thought I could wear them forever.
In the meantime, when I was looking for a good pair of shoes, I came across Sanders at FRAMeWORK.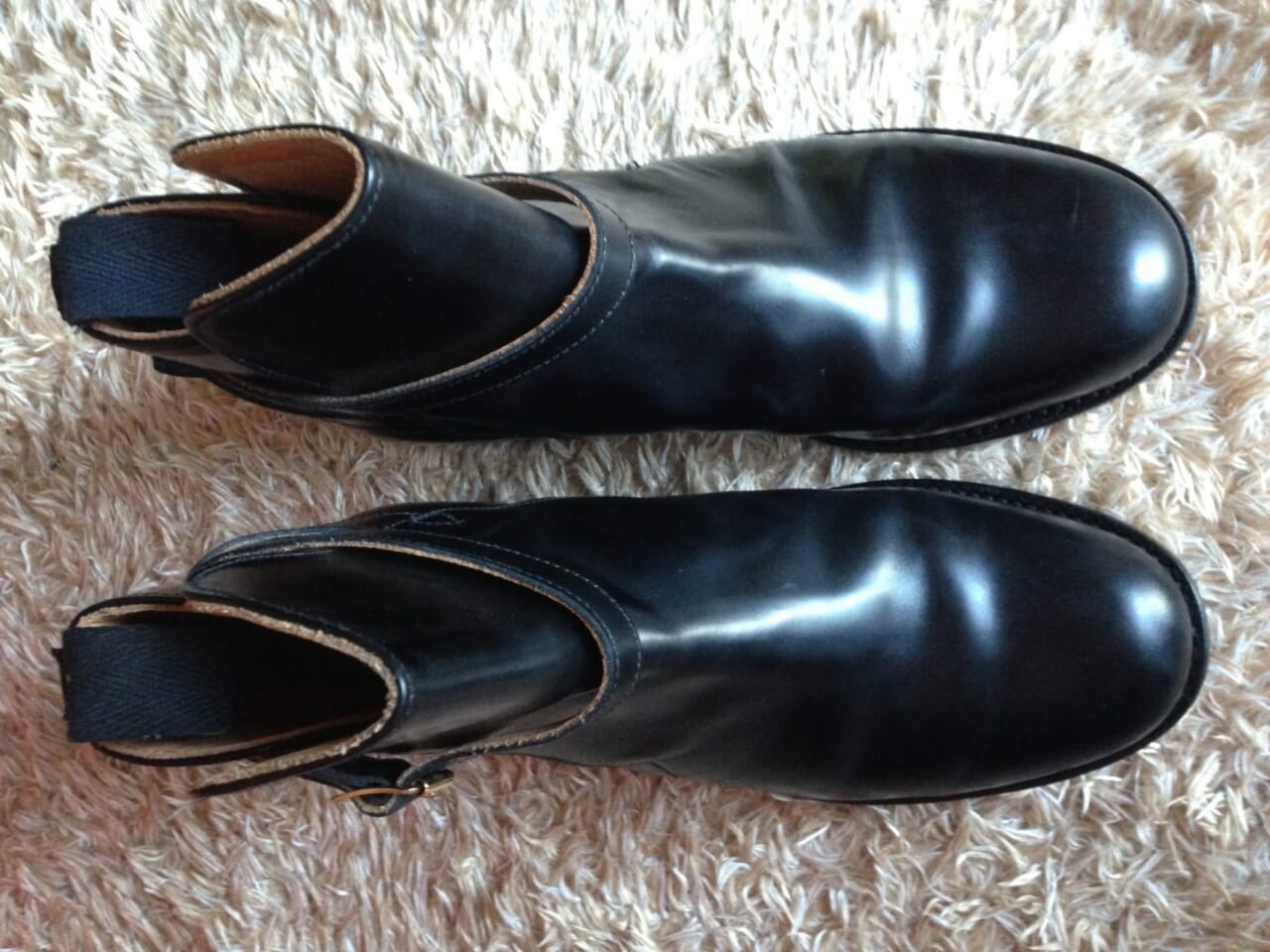 I got a pair of Sanders jodhpurs!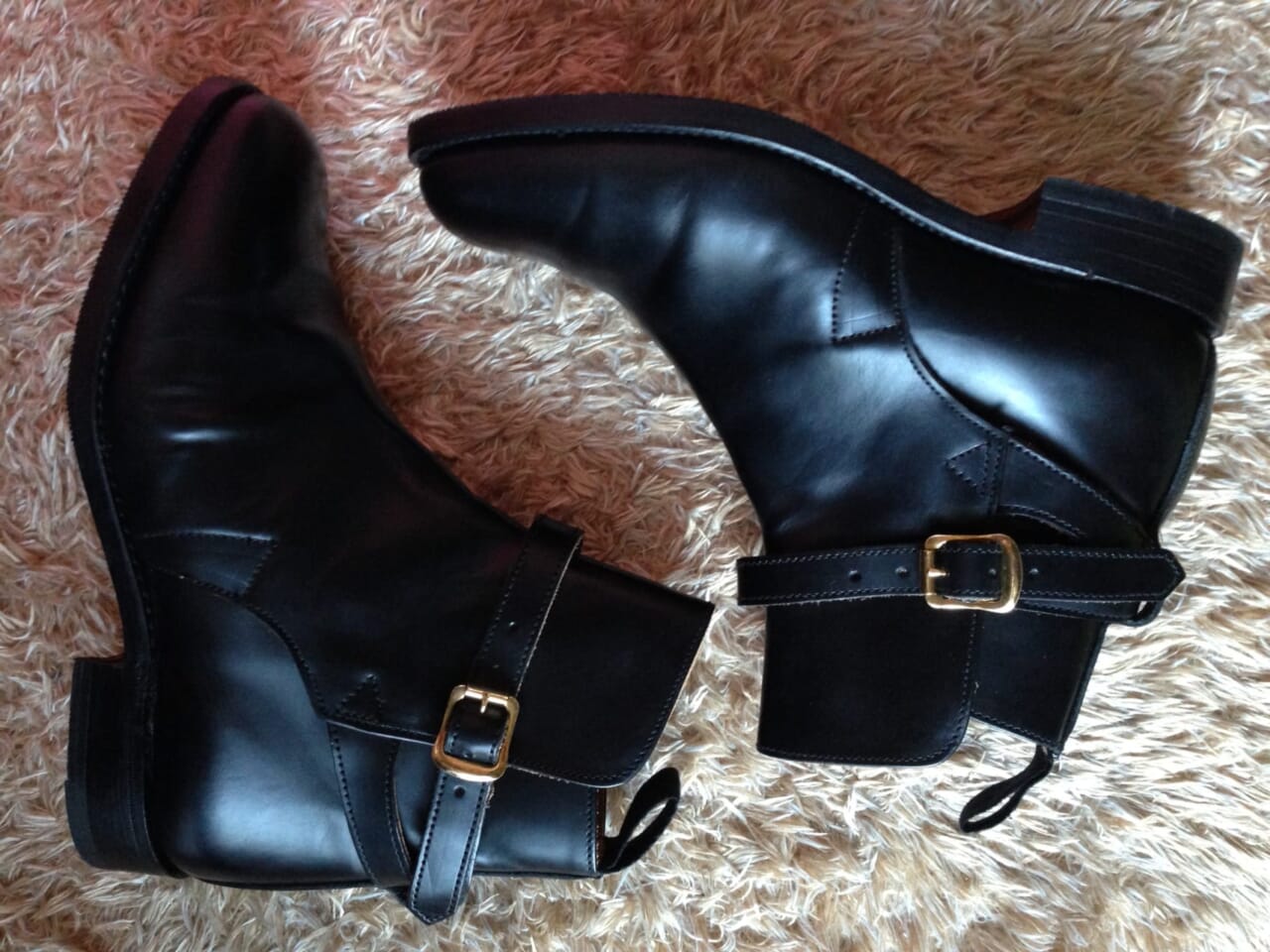 The glossy leather is beautiful. The impression of quality and sturdiness
When I tried them on, I could feel the support of the heel.
I remembered that the sole is the backbone of the shoe, and that's what a good sole that fits your foot feels like. Since they are Goodyear shoes, the more I wear them, the more my weight will push on them and they will conform to the shape of my soles.
And the counters are nice.
The heel part of the upper, not the sole, also follows me well.
I like shoes that have a strong counter. If the heel is too soft or too shallow, it will come off and you won't be able to walk properly. Shoes are a tool for walking. Thick, well-crafted leather holds them in place.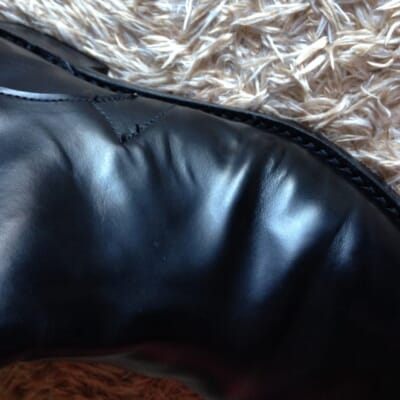 The wrinkles on the outer instep side of my left foot bothered me, but I was so impressed when I put them on that I bought them again at 30% off.
I thought I could cover it up because I know it will wrinkle when I wear them anyway.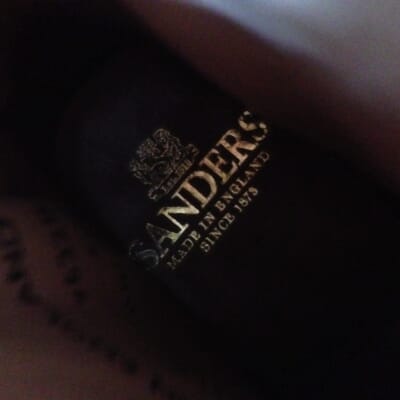 Sanders has a beautiful logo.
These shoes make me feel uplifted just by wearing them. However, the leather is too hard, and at first, every time I walked, the toe side of the tube hit my shin and hurt… This happens with Dr. Martens, too… I'm used to it now, but I hope you'll get used to it soon!
Sanders is the first shoe I've felt good in a long time.
To begin with, Sanders has a background in making most of the shoes for the British Ministry of Defense.
The production is stable, so the price can be set at a reasonable level, and there is an appeal and coolness without being too dressy.
In a feature article in the shoe magazine "LAST", they commented that they want to make shoes that are flexible enough to be accepted by the current younger generation, and I hope that they will
continue to provide the younger generation with good-looking shoes that combine the history that has lasted for more than 130 years, their cultivated skills, and the current atmosphere at a reasonable price.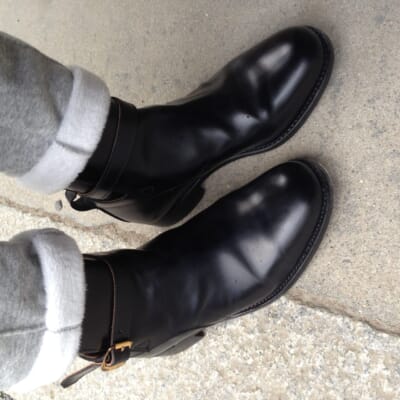 This is what I look like when I wear them now. I wore them to the shrine for New Year's. The water droplets are from when I washed my hands.
The size 5 is just right for me. I'd like to get the other models again.
VIVA SANDERS ! I'm not sure what to make of it.