I bought a pair of Moonstar Tabi Shoes after Tabi.
In fact, I used to wear Tabi Shoes for fun. I had no idea there were such cute Tabi Shoes out there! ????
Tabi is the traditional shoe design of working shoes.
MoonStar's JIKATABI is an updated version of the classic Tabi Shoes.
The name of the product is JIKATABI, which is sold in select stores. These are tabi socks used for festivals, but the material is changed to be used in town. The raw canvas is cute and clean!
Here is a comparison of the Moonstar JIKATABI (white) and Margiela TABI (black)!
Tabi size is 38, officially equivalent to 24cm (eh, I thought it was 25cm…!)
JIKATABI is for 25cm.
At any rate, the width is completely different.
JIKATABI is unisex, so maybe it's wider.
The tabi is a brand of leather shoes with a sleek look.
Of course, the sole is also different between leather shoes and vulcanized Tabi Shoes.
JIKATABI has a thinner sole and a softer setting. This is so that your feet can stand on them as if you were barefoot. The flexibility of the vulcanized sole is also amazing, it really feels barefoot!
Both types of Kohaze have five pieces.
JIKATABI is thinner and has a softer base, so there is more room to hang it, making it easier to hang.
In contrast, Tabi's Kohaze is thicker. In contrast, the Kohaze of tabi is thicker and has a solid leather base, which does not allow as much room for hanging, so it requires more skill and strength to hang. In addition, tabi has no space between the strings for hanging the kohaze. In addition, tabi is made up of three lumps, which also require more strength to hang on all of them.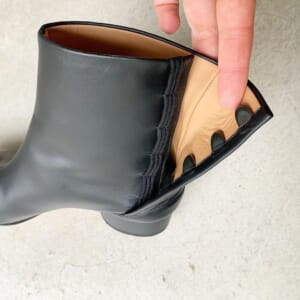 Kohase's design, JIKATABI's is the moon and stars!

The tabi has a vintage look to it!
Both are attractive in their own way.
I'll wear them, I'll wear them both…!
That's the kind of comparative information I'm talking about ????.
---
JIKATABI #jikatabi moonstar_jp #moonstar
¥9,900-
Tabi #tabi maisonmargiela #maisonmargiela
¥143,000-