shoes miyagikogyo.press #miyagikogyo
pant ZARAZARA
coat rougeviflacle_official #rougevif
Today's code is graceful, only black and pink????????
The shoes are women's by Miyagi Kogyo, which I got the other day.
They are very nice…very nice!
What I particularly like about the construction of this shoe is the piping.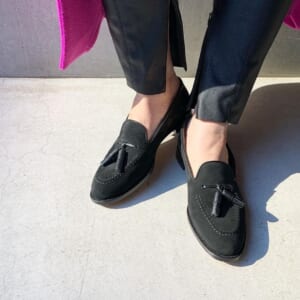 The parts around the opening of the shoe are made of a smooth material.
What if they didn't have this, or the material was suede like the instep?
The color would transfer to your socks….
I like the fact that they not only look good, but are also easy to use.
A formal air and a relaxed air.
A pair with a perfect balance of two seemingly conflicting elements.
I was deeply impressed by the intelligent forms and patterns, delicate stitching, and the know-how and technology of the manufacturers.????
---
First impressions post here.